Digital marketing campaigns involve a lot of decision-making, ideas, strategies, and observation. Marketers spend a lot of time to get real time digital business insights to understand the overall partner journey. Typical process for a digital campaign includes planning, identifying goals, KPIs, channels, budget planning and involving multiple teams. Problem happens when a small marketing team at brand end handles very complex marketing activities.
Say a brand has many products and these products in turn has different agencies/publishers working on campaigns. Later these agencies work on different campaigns and channels. As a result, your managers get a very complex, multi-agency, multi service and campaign structure to manage. Unfortunately, all of this is managed on emails and spreadsheets. Your managers tend to spend 80% of their time on communications rather than on strategies. As a result; your team takes longer time to sort the poles of data and even longer to derive insights out of it.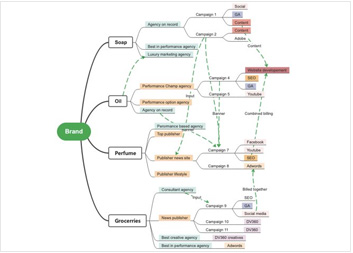 There is currently no proper operations management platform to get real time data insights of the campaigns and hence managers are using different tools to patch data from different sources. For digital era marketing many brands use Project Management Tools (PMO) or ERPs for keeping track of their data repositories. But these tools are limited only towards batch processing, and they are not built for multiple business functions/operations. In the end your team ends up looking at multiple platforms for a holistic view of data.
This brings us to the glaring problems with ERP -
The rigid nature of ERP
As ERPs are static so they don't have the flexibility to map futuristic business needs in an agile way
They cannot provide optimized responses that includes multiple business functions. For ad-hoc changes in media plan, marketers need dynamic and high-volume digital operations processing system.
Undefined process for digital marketing
When we talk about software's, there is a set of pre-defined process for its implementation e.g., SDLC but when it comes to digital marketing there is no as such process defined for it. So, we need a mobility for operation programming interface to help marketers perform better.
Report fluctuations in digital marketing metrics
Digital campaigns require tracking leads, planning budgets, sales from different channels throughout the year. Thus, fluctuating report metrics results in opportunity losses and wastage of marketing spends.
Fast changing digital marketing landscape
With emerging tech, IOTs, AI/ML disruptions, marketers must map their digital operations in such a way so that they don't lose important communication in lengthy mail trails. It is important to manage interdependent workloads efficiently and dedicate more time to strategizing instead of fixing operations.
In conclusion, ERPs are repetitive and lack real time digital operations management design, flexibility, and dynamic information processing. Current ERP system are playing catchup with the emerging trends and uncertainties in digital world.
To overcome these limitations, logicserve digital with a decade long digital marketing exp has come up with a tool made by Digital experts for digital experts. DigiVerse as a digital operations management platform; provides customizable solutions designed specifically for multi-agency, multi service campaign structure to improve your operational efficiency. Get your projects streamlined with DigiVerse and fix your operational headache by completing your project consolidation tasks in a jiffy and get timely alerts for key KPIs.
To evaluate DigiVerse against your business needs; drop in a demo request with us for a detailed understanding of the product. Click here